Music in Therapy with Gina
Epicenter ABA is thrilled to formally introduce music into our treatment plans for our kiddos! Thanks to 
Gina Bowser
, Registered Behavior Technician (RBT), we have launched a Kindergarten Readiness Group in our clinic in Warrensville Heights, as well as the incorporation of music in the 1:1 ABA Therapy home setting.  Through our Kindergarten Readiness Group, Gina hosts a music group twice per week to get your kiddos movin' and groovin' while working on their social skills in a group setting. But that's not all that they work on! Other goals like imitation and singing along with Gina, taking turns, self-regulating emotions, and choral responding are all incorporated into her music classes. Your personal therapist will continue to help your child during these classes to gain the most therapeutic benefit from Applied Behavior Analysis (ABA) and music!
Kindergarten Readiness Group
Your kiddo will sing along with Gina and get really excited and dance to upbeat songs.  Your kiddo will sing and dance in unison with their group. There are also opportunities for your child to have solo sessions! Reach out to our Epicenter ABA Family for more information on how we can incorporate music in therapy for your kiddo. 

This music group is not just a great way to be ready to prepare for Kindergarten but also great for future opportunities to attend concerts in the park in your local community, sing and dance appropriately when a fun song comes on while shopping with mom and dad in a store, and attending live events likes a basketball game or a musical production for kids at the Rocket Mortgage FieldHouse, Progressive Field or the Rock & Roll Hall of Fame!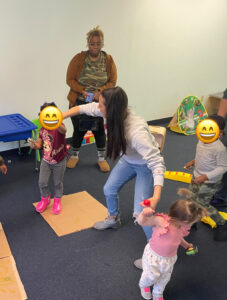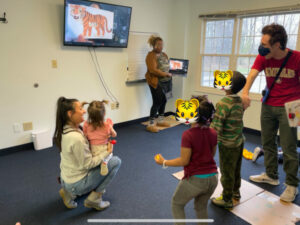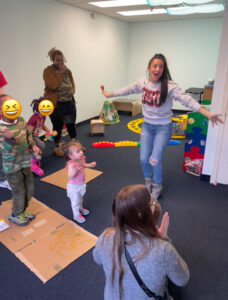 Music in Therapy Skill of the Month
This month Gina is working with the kiddos to tact (label) their emotions in the "Feeling song".
1:1 Music in Therapy with Gina
For our younger kiddos, we are offering music in therapy as a part of our behavior plans in the home setting. Your child can work with Gina once per week to focusing on attending to the song and responding when asked. 
MUSIC IN THERAPY SKILL OF THE MONTH
This month Gina will be using "Wheels on the Bus" to work on imitations from the sights and sounds of a bus as well as and an animal song to work on names of animals and the sounds they make (tacting or labeling animals).

If you have any questions about how music can be integrated into your child's therapy or you want to learn more about our kindergarten readiness program, please reach out to us at (216) 508-4050. Fill out an intake form today to get started in your child's musical future.

To learn more about Autism click to join Epicenter's

Understanding Autism Training Course

. We also offer many other  trainings related to Autism and

Applied Behavior Analysis

Training. Our next training in the series is

Understanding Autism vs Anxiety

.